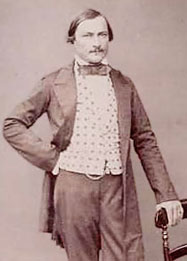 Born in Prêcheur, Martinique on 13 August 1818. Justice of the Peace. Proprietor of the Reunion Estate in the Parish of Laborie, St. Lucia. Died in 1867.

By the time that he got married to Victoria Goodman in 1858, Jules and Elphise Cadet his companion had had 5 children; their relationship lasted until Elphise's death in 1866 for a total of 23 years.

• They had five children:


(1) Florent Eugene. Date of birth unknown. On 27 April 1874 he married Marie Artemisie Revotot. They had at least 7 children.


(2) Léonce (alias Tante Paris). Born 1846. Died in 1941 at the age of 95 years. No children.


(3) Victor. Died in 1920 in Laborie, St. Lucia at the age of 70 years. Married Robertine Smith before 1884. They had at least 8 children.


(4) Hippolyte.


(5) Fandile Antoine (alias James). Born on 30 January1857. Moved to Kentucky, U.S.A. before 1930.


• Jules and his wife Victoria Goodman had two chidren:


1. Irma Joséphine Louise, daughter born in 1859. Irma had two sons - Wilfred Aloysous Edgar George who was born on 17 February 1897 and another son (name unknown). Irma married Bundy, who was inspector of schools in Castries.


2. A son named John. John never married.